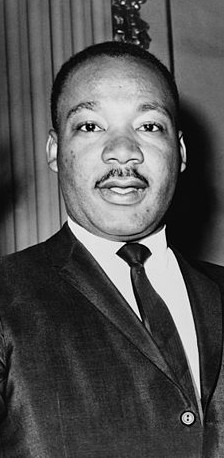 Dr. Martin Luther King wurde am 04. April 1968 in Memphis / Tennessee, im Alter von 39 Jahren erschossen.
King war die zentrale Figur der schwarzen Bürgerrechtsbewegung und eine Legende zu Lebzeiten. In den Jahren 1955/56 wirkte er an zentraler Stelle beim Boykott der Busgesellschaft in Montgomery / Alabama mit, nachdem dort die Schwarze Rosa Parks verhaftet wurde, weil sie sich weigerte, ihren Platz einer Weißen zu räumen.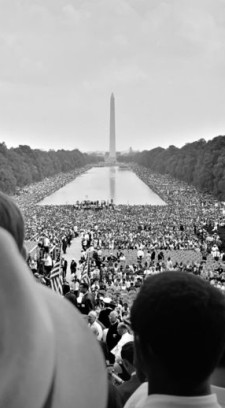 Einen entscheidenden Durchbruch in der offiziellen Praxis der Rassentrennung erreichte King ausgerechnet durch die unnachgiebigen Proteste seiner Bewegung in Birmingham / Alabama, einer Hochburg der Segregation. Wenn sie es dort schaffen würden, würden sie es auch in der ganzen Nation schaffen, so das Kalkül, das nach zahlreichen Rückschlägen aufgehen sollte.
Einen Höhepunkt in seiner öffentlichen Wirksamkeit erzielte King am 28. August 1963 beim "Marsch auf Washington", als er vor dem Lincoln Memorial vor 200.000 Zuhörern seine "I have a dream"-Rede gab (Auszüge:)
In a sense we've come to our nation's capital to cash a check. [… um einen Scheck einzulösen]
When the architects of our republic wrote the magnificent words of the Constitution and the Declaration of Independence, they were signing a promissory note to which every American was to fall heir. [die Gründerväter schrieben ein Versprechen nieder, das zum Erbe eines jeden Amerikaners werden sollte] …
This note was a promise that all men, yes, black men as well as white men, would be guaranteed the unalienable rights [unveräußerliche Rechte] of life, liberty and the pursuit of happiness. …
It is obvious today that America has defaulted on this promissory note [Amerika hat dieses Versprechen noch nicht einglöst], insofar as her citizens of color are concerned. …
Instead of honoring this sacred obligation, America has given the Negro people a bad check, a check which has come back marked 'insufficient funds.' …
It would be fatal for the nation to overlook the urgency of the moment. This sweltering summer of the Negro's legitimate discontent will not pass [dieser drückende Sommer, in dem die Sorgen der schwarzen Bevölkerung so lange nicht vorbeigehen werden] until there is an invigorating autumn [belebender herbst] of freedom and equality. al08de
Nineteen sixty-three is not an end, but a beginning. [1963 – dieses Jahr – ist kein Ende, sondern ein Beginn] …
Those who hope that the Negro needed to blow off steam [nur Dampf ablassen] and will now be content will have a rude awakening [rauhes Erwachen] if the nation returns to business as usual.
The marvelous new militancy which has engulfed the Negro community must not lead us to a distrust of all white people. For many of our white brothers as evidenced by their presence [weil viele Weiße durch ihre Anwesenheit hier beweisen…] here today have come to realize that their destiny is tied up with our destiny and they have come to realize that their freedom is inextricably bound to our freedom. [ihre Freiheit ist unabänderlich mit unserer Freiheit verbunden] We can not walk alone.
I have a dream that one day this nation will rise up and live out the true meaning of its creed [Bekenntnis]: 'We hold these truths to be self-evident, that all men are created equal.'
I have a dream that my four little children will one day live in a nation where they will not be judged by the color of their skin, but by the content of their character.
I have a dream that one day on the red hills of Georgia the sons of former slaves and the sons of former slave owners will they be able to sit down together at a table of brotherhood.
This is our hope. This is the faith that I go back to the South with. With this faith we will be able to hew out of the mountain of despair a stone of hope. With this faith we will be able to transform the jangling discords [himmelschreiende Ungerechtigkeit] of our nation into a beautiful symphony of brotherhood. With this faith we will be able to work together, to pray together, to struggle together, to go to jail together, to stand up for freedom together, knowing that we will be free one day. …
Now is the time to lift our nation from the quicksand of racial injustice [aus dem Treibsand rassischer Ungerechtigkeit] to the solid rock of brotherhood. Now is the time to make justice a reality for all of God's children. …
Let freedom ring. And when this happens, and when we allow freedom ring—when we let it ring from every village and every hamlet [Dorf], from every state and every city, we will be able to speed up that day when all of God's children—black men and white men, Jews and Gentiles [Heiden], Protestants and Catholics—will be able to join hands and sing in the words of the old Negro spiritual: "Free at last! Free at last! Thank God Almighty, we are free at last!
— Schlesinger
(Photos: Dr. King, Marsch auf Washington, beides CC-Lizenz)