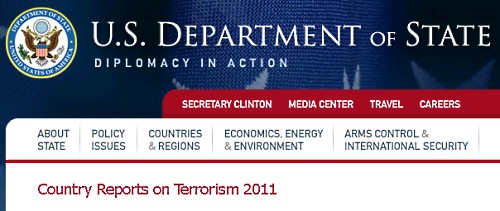 Das amerikanische Außenministerium veröffentlicht jährlich einen Bericht über terroristische Organisationen und entsprechende Vorkommnisse.
Im Bericht zu 2011 hat es erstmals die Gewalttaten jüdischer Siedler gegen Palästinenser aufgenommen und damit als Terror eingestuft:
Attacks by extremist Israeli settlers against Palestinian residents, property, and places of worship in the West Bank continued. […]

In December, well-publicized Israeli settler attacks on IDF personnel and an IDF military base in the West Bank sparked a public debate in Israel on the phenomena of settler violence; political and security officials pledged to implement several steps to curb and punish these violent attacks.

Israeli Defense Minister Ehud Barak labeled settler acts as having "the characteristic of homegrown terror;" several months earlier, IDF Head of Central Command Avi Mizrahi labeled attacks against Palestinians and their property in the West Bank as "terror" and ordered the administrative deportation of a dozen Israeli settlers from the West Bank settlement of Yitzhar.

In 2011, a total of ten Palestinian mosques in the West Bank and Jerusalem were vandalized or set on fire in attacks that Israeli authorities believed were perpetrated by settlers, up from six such incidents in 2010 and one in 2009.
Wikipedia führt eine Liste der Übergriffe durch Siedler, auch bekannt als "price tag" oder Preisschild-Politik: Jede Aktion gegen die Landnahme der Siedler wird mit einem "Preisschild" versehen, d.h. einer Gewalttat, die sich in der Regel gegen Palästinenser oder in einzelnen Fällen gegen das israelische Militär richtet, wenn es zu Räumungen von kleineren Siedlungen kommt:
List of incidents reported as, or suspected to be, price tag attacks
— Schlesinger