Mit ihrer Attentats-Äußerung in Bezug auf Obama hat sich Hillary in die Nesseln gesetzt: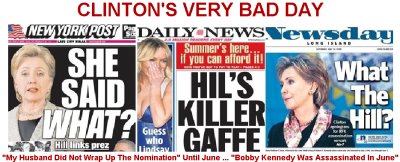 Clinton Remark on Kennedy's Killing Stirs Uproar

[…] the comments touched on one of the most sensitive aspects of the current presidential campaign — concern for Mr. Obama's safety.
THE BOSTON HERALD
[…] the problem is half the country can't stand her or trust a word she says.

[…] when you look closer at her excuse, it doesn't wash. They never quite do. The familiar pattern emerges: deception on deception.
THE NEWS TRIBUNE
Now, the longer the nomination race goes on, the more people are asking Clinton why she continues to campaign.

She insists she can win, but the mathematical explanations for how that can happen grow more fanciful by the week.

And without any clear explanation of how she can win, mentioning the Robert Kennedy assassination to some ears sounds like

the last, desperate scenario of someone unwilling to admit defeat.
— Bigdaddy
(Screenshot: HuffingtonPost)