Die große amerikanische Tageszeitung Chicago Tribune – Chicago ist die drittgrößte Stadt der USA – verwendet geschichtsträchtige Formulierungen, um ihre aktuelle Unterstützung für Barack Obama auszudrücken.
Wie immer diese Wahl ausgehen mag, sie wird den langsamen Fortschritt auf dem Weg zu mehr Gleichberechtigung und Teilhabe dramatisch beeinflussen:

However this election turns out, it will dramatically advance America's slow progress toward equality and inclusion.
It took Abraham Lincoln's extraordinary courage in the Civil War to get us here.
It took an epic battle to secure women the right to vote.
It took the perseverance [Beharrlichkeit] of the civil rights movement.
On Nov. 4 we're going to

elect a president to lead us through a perilous time

[gefährliche Zeit] and restore in us a common sense of national purpose.
The strongest candidate to do that is Sen. Barack Obama.
The Tribune is proud to endorse him today for president of the United States.
Die LOS ANGELES TIMES schreibt
We need a leader who demonstrates thoughtful calm and grace under pressure
The Times without hesitation endorses Barack Obama for president.
We may one day look back on this presidential campaign in wonder. We may marvel that Obama's critics called him an elitist, as if an Ivy League education were a source of embarrassment, and belittled his eloquence, as if a gift with words were suddenly a defect. In fact, Obama is educated and eloquent, sober and exciting, steady and mature. He represents the nation as it is, and as it aspires to be.
Die WASHINGTON POST schrieb gestern
Mr. Obama's temperament is unlike anything we've seen on the national stage in many years.
He is deliberate but not indecisive; eloquent but a master of substance and detail; preternaturally confident but eager to hear opposing points of view. He has inspired millions of voters of diverse ages and races, no small thing in our often divided and cynical country.
We think he is the right man for a perilous moment.
Am 13. Oktober hatte bereits der BOSTON GLOBE Obama als Kandidaten favorisiert:
Such a leader is at hand.
With great enthusiasm, the Globe endorses Senator Barack Obama for president.
An die Adresse aller Zyniker, die in Obama nur einen Schönredner sehen: Es geht um nichts Geringeres als um eine Restauration und um die Beförderung der demokratischen, humanen amerikanischen Nation.
Wer diese Option leichtfertig schlecht redet, weiß nicht wie sehr er uns schlecht redet.
John McCain hat den Abstand zu Obama etwas verringern können.
Obama liegt aktuell 6,5 Prozent vorne, gegenüber etwas über 7 Prozent vor einigen Tagen.
McCain hilft nur noch der Schmutz
Das mag dem aggressiven Auftreten McCains in der letzten TV Debatte geschuldet sein, aber insbesondere seiner jüngsten Einbeziehung derselben Schmutzkampagnen-Firma, die in 2000 für George W. Bush aktiv war und in Verleumndungskampagnen ("Robocalls") dessen Konkurrenten namens John McCain aus dem Weg räumte. Im Auftrag McCains werden Hunderttausende Wähler angerufen und ihnen in alarmierten Ton mitgeteilt, ob sie wüßten, dass Obama eng mit dem Terroristen Ayers zusammen gearbeitet habe.
Wie Umfragen zu diesem konkreten Thema zeigen, finden es bedeutend mehr Wähler abstoßend als überzeugend. Andrew Sprung hat dazu die passende Formulierung gefunden: "American voters grew antibodies" (Amerikanische Wähler haben Antkörper gegen diese Art von Kampagnen entwickelt).
Derweil hat Obama die Innenstadt von St. Louis in ein Volksfest verwandelt: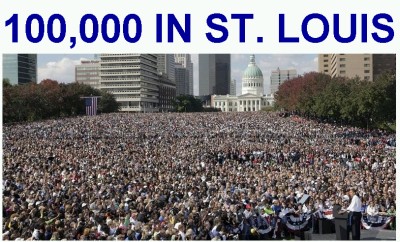 Wie kommentiert ein rechter Blogger den Andrang in St. Louis?
100,000 IS A LOT OF DUPES [Schwachköpfe].
* STILL: HE GOT A BIGGER CROWD IN BERLIN THAN IN ST. LOUIS. WHY!?
* WAS THERE A ROCK BAND IN ST. LOUIS, TOO?
* WHO BUSSED THESE HORDES OF MORONS [Dummköpfe] INTO ST LOUIS? WHICH UNIONS [Gewerkschaften]?
JUST ASKING…
Angemessene Antwort des Mahablogs:
So all those decent, hard-working citizens of St. Louis who came out today, hoisting their kids on their shoulders to see the candidate, are "hordes of morons." The Right spits on you, St. Louis. I think the Right's fantasy world is imploding. They aren't used to having to deal with the real world. No wonder they're confused.
— Schlesinger
PS.: Chicago ist seit 1992 eine Hochburg der Demokraten. Der Bundesstaat Illinois ist ein Blue State, also ebenso den Demokraten zugeneigt.
(Photo: Huffington Post)