Eine der berühmtesten Rockbands der USA spielen in einem Konzert in Kalifornien unmittelbar vor dem "Super Tuesday", um ihre Unterstützung für Barack Obama öffentlich bekannt zu geben.

( Grafik: Webpage The Grateful Dead )
Die Band ist seit 4 Jahren nicht mehr aufgetreten. Das Konzert war binnen kurzem ausverkauft.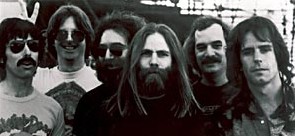 ( Photo: derstandard.at )
Die Ankündigung auf der Webseite:
Grateful Dead Members to Reunite for Barack Obama
(San Francisco) Members of the Grateful Dead will host a get out the vote concert in support of Democratic Presidential candidate Barack Obama on Monday, February 4th at The Warfield Theatre in San Francisco. Mickey Hart, Phil Lesh, and Bob Weir, joined by Jackie Greene, John Molo, and Steve Molitz, will play show together in support of Barack Obama.
The video website Iclips will be producing a live simulcast streamed via the Internet on www.iclips.net at approximately 7:30pm PST.
This will mark the first time that the members of the legendary band have performed together since 2004. They have agreed to reunite for this one-time-only event in order to lend support to Senator Obama leading into the crucial "Super- Tuesday" series of primaries held on Tuesday, February 5th."
— Schlesinger