Die Kennedys sind bereits offizielle Unterstützer von Barack Obama. ( Der frühere Mehrheitsführer der Demokraten im Senat, Thomas Daschle, meinte dazu: "The Kennedy endorsement was a 12 on a scale of one to 10, it will be written as one of the biggest turning points in the campaign." )
Nun meldet sich mit Theodore "Ted" Sorenson eine legendäre Figur der Kennedy-Ära zu Wort, um eine Bresche für den charismatischen Senator zu schlagen.
Sorenson war Berater Kennedys und dessen allseits bekannter Redenschreiber.
Das berühmte "Fragt nicht, was Euer Land für Euch tun kann, fragt, was Ihr für Euer Land tun könnt!" in der Amtseinführungsrede John F. Kennedys stammt aus seiner Feder ("Ask not what your country can do for you, ask what you can do for your country") und kann als Motto der Regierung JFKs gelten.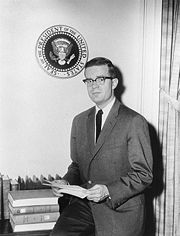 ( Photo: Ted Sorenson, Bildarchiv Weisses Haus)
Nun hat Sorenson ein leidenschaftliches Plädoyer für Obama abgegeben:
"I truly believe that February 5th will choose the next president of the United States, and that this choice is more important for our country's future than any presidential election since 1932.
After almost eight years of Bush incompetence, indifference and disasters, Senator Obama is the one candidate who can restore America's moral authority and regain the respect essential to our security.
The way Senator Obama thinks and speaks about our problems and politics, the way he seeks leadership not for the power and glory but for the things we need to accomplish, is more like John F. Kennedy than any president or presidential candidate in either party since that terrible day we lost JFK in 1963.
Despite my age and infirmities, I have campaigned for Senator Obama in seven states, used my voice and pen repeatedly on his behalf, and have become more determined to see his nomination with each new passing revelation of the true character of his opponents.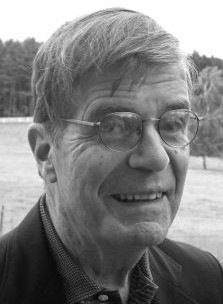 ( Photo: Ted Sorenson, en.wikipedia)
An Obama presidency will be a turning point in this country, and I ask all — with the sound of my voice or the reach of my pen — to join me in making history.
Our children and grandchildren will be grateful if you do."
Obama habe dieselben Handicaps, wie sie einst Kennedy hatte: Er sei jung, er habe erst eine Amtsperiode Erfahrung im Kongress, er werde wegen einer angeborenen Eigenschaft – schwarz zu sein – als kaum wählbar angesehen, ebenso wie Kenndy als Katholik schwer vermittelbar gewesen sei. Wie Kennedy sei er jedoch ein Visionär, klug und mutig in seinen Entscheidungen:
Wo bleiben die großen, gewichtigen Stimmen, die Partei ergeifen für Hillary Clinton?Ach ja, jüngst erst die erzkonservative Kommentatorin Ann Coulter.
— Mark