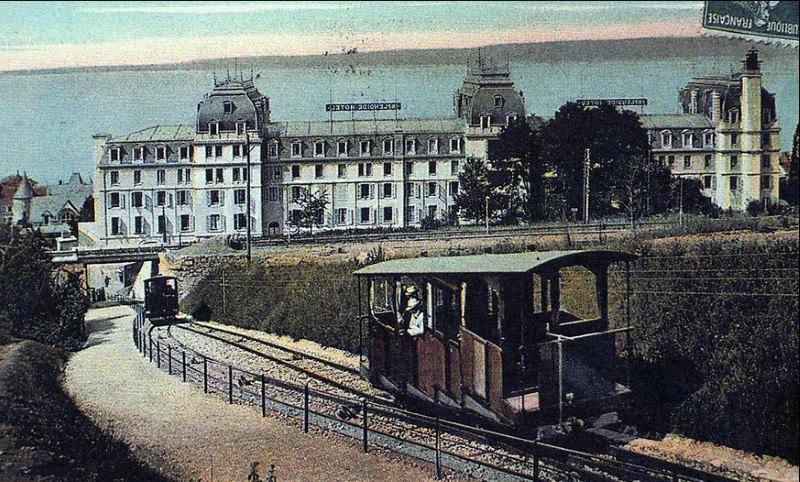 Vom 6. Juli 1938 bis zum 15. Juli 1938 fand in der Schweiz die internationale Konferenz von Evian statt. Vertreter von 32 Nationen und 24 Hilfsorganisationen berieten in dem Schweizer Kurort über das Problem der stark gestiegenen Flüchtlingszahlen von Juden aus Deutschland und Österreich.
Der amerikanische Präsident Roosevelt hatte dazu eingeladen.
Das Thema dieser Friedenskonferenz lautete: Kann und will die internationale Gemeinschaft die deutschen und österreichischen Juden aufnehmen, die von den Nationalsozialisten immer schwerer bedrängt wurden?
Noch hatte die sogenannte "Reichskristallnacht" nicht stattgefunden, und die systematische Verschleppung und Ermordung der Juden würde erst im Januar 1942 auf der "Wannsee-Konferenz" beschlossen.
Trotzdem war schon 1938 unübersehbar, daß die politische Entwicklung im "Deutschen Reich" für Juden bedrohlich wurde.
Die Teilnehmer der Konferenz konnten sich auf keine Lösung einigen.
Die deutschen und österreichischen Juden wurden alleine gelassen.
In einer kurzen Reihe werden hier Originaltexte aus der zeitgenössischen Tageszeitung "Palestine Post" wiedergegeben.*
Die Palestine Post wurde im britischen Mandatsgebiet Palästina in englischer Sprache heraus gegeben.
Palestine Post
06.07.1938
LONDON, Tuesday.— Great interest is being centred on the conference opening tomorrow at Evian-les-Bains on lake Geneva, to discuss the problem of settling refugees from Germany and Austria.

Thirty-two countries will be represented, and Lord Winterton, Chancellor of the Duchy of Lancaster, and Sir Michael Palairet, former British Minister in Vienna, who are leading the British delegation, left London by air today. In addition to the British delegation, Australia, New Zealand and Eire are sending delegations, while South Africa will be represented by an Observer.

It is understood that no preconceived plan for the solution of the refugees problem has been reached. The suggestion that an international convention might be the outcome of the deliberations is regarded as premature, but it is believed that an agreement might possibly be reached on each country taking in refugees.

It is understood (by Reuter's Evian correspondent) that efforts have been made to persuade the United States to accept a proposal on these lines, and a certain amount of preparatory work has been accomplished.

The conference is the result of the initiative taken by President Roosevelt, who issued an appeal to other countries to associate themselves in an international, humanitarian effort to provide a means for resettlement for those unfortunate persons denied the right of existence in certain European countries.

Jewish Memorandum

The Jewish Agency's memorandum to the Conference begins by pointing out that the Balfour Declaration was granted in order to facilitate the establishment of a National Home for Jews in Palestine without prejudicing the rights and status of Jews domiciled in other countries.

It is stated that Zionism is fully compatible with the equality of rights and duties of citizenship in different countries. Zionism is opposed to the enforcement of emigration, which is the choice of individuals and is not compulsory. The memorandum gives an exhaustive review of Jewish emigration since the '80s of the last century resulting from anti-Semitism and disabilities placed upon Jewish communities in many countries of Central and Eastern Europe.

Enumerating the post-War achievements in Palestine, the document points out that these have opened the way for Jewish people from many countries to enter and live a normal Jewish life, thereby rescuing many from Europe. Moreover, op-portunities have been created for the absorption of emigrants, especially from Germany.

The memorandum concludes by suggesting some further possibilities of Jewish settlement in Palestine and Trans-Jordan.

Americans at Work

Mr. James G. MacDonald, former League High Commissioner for Refugees from Germany, has arrived at Evian where he will be adviser to the American delegation, which is headed by Mr. Myron C. Taylor.

The American delegation have been busy preparing material for the conference, and are said to have shown considerable interest in the question of Jewish mass settlement in undeveloped countries which was suggested by American bodies.

At the recent Scandinavian conference discussing the refugees' problem, it was stated that there were 1,278 emigres in Denmark, about 2,000 in Sweden and [**] in Norway.

Private Organizations

Hr. Hanson, President of the Nansen Office, is to attend as head of the Norwegian delegation, with full liberty of action, while Poland will be represented by an observer.

At least 20 private Jewish and non-Jewish refugee relief organizations have prepared plans and memoranda to be submitted to the conference. These plans suggest that the Conference urge Germany and other countries to halt persecutions; that it should negotiate with Germany to permit Jewish and other emigrants to take some of their capital out of the Reich; and sponsor an international loan for refugee settlement.

Interessant sind vor allem zwei Aspekte:
(1) Die amerikanische Delegation war im Vorfeld der Konferenz anscheinend besonders bemüht. Die Amerikaner hatten allerdings kein Interesse an einer jüdischen Immigration in ihr eigenes Land, sondern nur in "unterentwickelte Länder".
(2) Sowohl die Jewish Agency, als auch die beteiligten jüdischen Organisationen haben eine Verhandlungslösung anfangs für möglich gehalten.
— Schlesinger
Teil 2 / Part 2
Teil 3 / Part 3
Teil 4 / Part 4
Teil 5 / Part 5
Teil 6 / Part 6
Teil 7 / Part 7
Teil 8 / Part 8
Teil 9 / Part 9
* Hervorhebungen nicht im Original
** im Original nicht lesbar
Quelle: Archiv
Photo: Wikimedia, gemeinfrei
Leseempfehlung TAZ