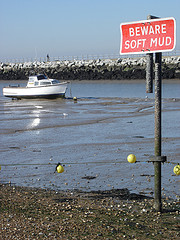 Die Medien, die Rechte, die "Gemäßigten", die ungemäßigte Hillary Clinton: Sie haben Obama inzwischen gut erzogen.
Auf die jüngsten Äußerungen seines früheren Pastors Jeremiah Wright angesprochen, verwahrte sich Obama diesmal in harter Form:
I'm outraged by the comments that were made and saddened by the spectacle that we saw yesterday.
I have been a member of Trinity United Church of Christ since 1992 and have known Jeremiah Wright for almost 22 years.
The person I saw yesterday was not the person I met 20 years ago.

His comments were not only divisive and destructive [spalterisch und destruktiv], but they also give comfort to those that prey on hate [sondern gefallen auch denen, die Hass predigen]
and I believe they do not accurately portray the perspective of the black church.
They certainly do not accurately portray my values and beliefs.

If Reverend Wright thinks that is political posturing on my part, he does not know me very well.
Obama blieb wohl keine andere Wahl. Im Gegensatz zur Philadelphia-Rede, mit der er sich dem Thema frei und souverän stellte, hat er sich inzwischen erfolgreich in die Ecke drängen lassen.
Obama scheint angeschlagen.
Was für ein jammervolles Schauspiel:
Hope, drowing in mud.
— Bigdaddy
(Photo: Flickr CC)